To access your purchased items, please follow the instructions below.
1. Log into your BeatStars account.
2. Then click on your profile image at the top right of the page.
3. Next, click on the "Purchased" option. (see screenshot)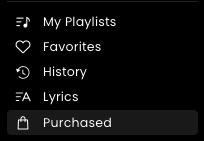 4. You will be able to download files for your purchases on this screen by clicking on the download button.
IMPORTANT: The files that are available to download will be based on what license(s) you purchased and the producer's settings.