To access your purchased items, please follow the instructions below.
1. Log into your BeatStars account.
2. Then click on your profile image at the top right of the page.
3. Next, click on the "Your Orders" option. (see screenshot)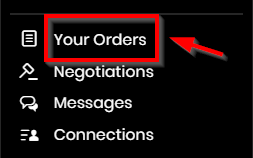 4. Then click on the View icon to the right of the completed order you wish to download files for. (see screenshot)





IMPORTANT: If the order is not marked as "Completed", no files will be available.
5. You will be taken to the Receipt Details page where you can download the associated files for your order. (see screenshot)



IMPORTANT: The files that are available to download will be based on what license(s) you purchased and the producer's settings. Producers often tag files for certain license(s), which BeatStars does not control. If you purchased an untagged license, you will need to discuss with the producer directly as they fully manage their own settings, licenses, sales, and customer communication.