To access your purchased orders, please see the following instructions.

1. Log into your BeatStars account.

2. Click on your profile image at the top right of the page.
3. Next, click on the "Your Orders" in the drop-down menu. (see screenshot)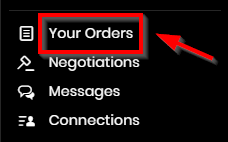 IMPORTANT: Please note that only orders made while logged into your account will populate in this section. Any guest purchases will not populate in this section and you will be able to download your files via the link we send to the email affiliated with your purchase.