1. Log in to your BeatStars account.
2. Go to Tracks
NOTE: You can also edit tracks in your "Future Releases" and "Drafts" sections as well.
3. Click the 3 dots to the far right of the desired beat, then the "Edit" option of the track you want to edit. (see screenshots)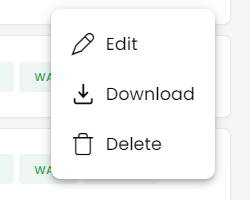 4. You will be redirected to the Track Metadata Editor page where you can modify metadata and/or files for the track.
5. Please ensure to provide all required metadata and files. You can then click the "Next Step" button to progress to the next page, then click "Publish" when you are ready to post the product live. (see screenshot)

IMPORTANT: Please review all of your settings and ensure they are set to your desired preferences before publishing your track. You will not be able to publish a track unless all required metadata and/or assets are provided.