To add a feature list to your contracts on your Pro Page, please follow the instructions below.
1. Log into your BeatStars account.
2. Next, visit the following section Contracts
3. Then click the 3 dots to the right, then the "Edit" option to the right of the contract you wish to edit. (see screenshots)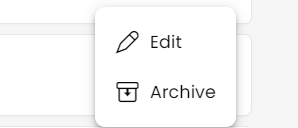 4. Once you are on your contract's edit page, enter your desired key features using the "Feature List" field.
NOTE: Please only use single spaces between each line. Using double spaces will lead to your list not showing up. (see screenshots)
Correct Example Entry Below:

Incorrect Example Entry Below: