This article applies to:
Beat sellers
Starter Plan
Professional Plan
Overview
This article will show you how to create bulk discounts to offer deals to your customers who buy multiple beats at once.

Tutorial video
Step by step guide
1. Visit your BeatStars Studio
2. Click "Discounts" on the left menu and select "bulk discounts."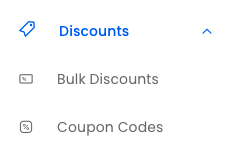 3. Click "create new bulk discount"
4. click the + and - buttons to create your bulk discount.

5. Select an expiration date or a start date for when it should become active.

6. Select which of your active contracts this bulk discount will work for.
7. Click Publish to complete your bulk discount.
Related articles
How do I Create Coupon Codes? (Studio)