To add a profile picture, please follow the instructions below.
1. Log into your BeatStars account.
2. Next, visit the following section Account Settings
3. Then click the "Upload New Image" button then select Upload File or Create in Canva.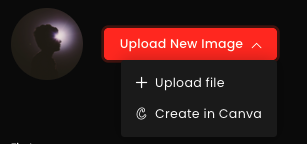 4. Next, select your image using the available upload options or create your new image in Canva.
5. If needed, crop your image and then click the "Save Crop" button. Then click the "Save" button. (see screenshot)