To add tracks to an existing playlist on the BeatStars desktop site, please follow these steps.
1. Click the 3 dots to the right of the track to reveal more options for the track you want to add to your playlist.

2. Select Add to Playlist from the menu.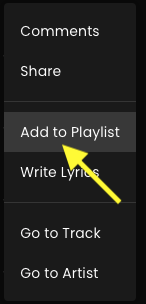 3. Find the playlist you want to add the track to and press the blue + button to add the track. You can also create a new playlist with this track.