To apply a coupon code to your purchase, please follow the instructions below.
1. Once you added all items to your cart, you can click the "Got Promo Code?" button. (see screenshot)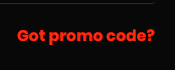 2. In the Promo Code field, please enter a valid Promo Code. (see screenshot)


IMPORTANT: Only qualifying promo codes will apply. Promo codes must be valid, applicable to your purchase, and not expired in order to apply.