We're sorry to see you go. If you are on a paid plan, please follow the instructions below to cancel your subscription.
1. Log into your BeatStars account.

2. Next, visit the following section Account Subscription
3. Then click the "Manage Plan" button.
4. Next, select the "Cancel Subscription" option in the drop-down menu.

IMPORTANT: Users are required to cancel their paid subscription at least 3 business days before their recurring billing date to avoid their next billing cycle. All subscription payments are Non-Refundable per our Refund Policy

5. If you wish to close your account after canceling your subscription, please use the "More Options" button and then select the "Close Account" option. (see screenshot)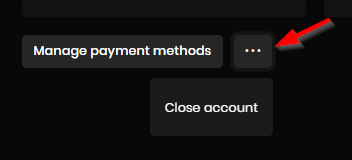 IMPORTANT: Closing your account is permanent and cannot be undone. Please also note that closing your account does not remove any content from any of our distribution/monetization programs. If you submitted content into any of our former distribution/monetization programs and wish to proceed with any actual removals from these programs, you will need to manually email us at support@beatstars.com and provide your ISRCs and track titles so that we can process the removals.