Once you complete the onboarding process you will be able to submit your tracks for Publishing. Please see the instructions below.
If your track has not been distributed to Spotify, you will not be able to add it to publishing. To learn how to distribute your tracks, check out this article here: How to distribute your music with BeatStars Distribution
1. Log into your BeatStars Studio account.
2. Next, visit the following section Publishing
3. You can begin the process here. you can search for your track using the track name or ISRC code.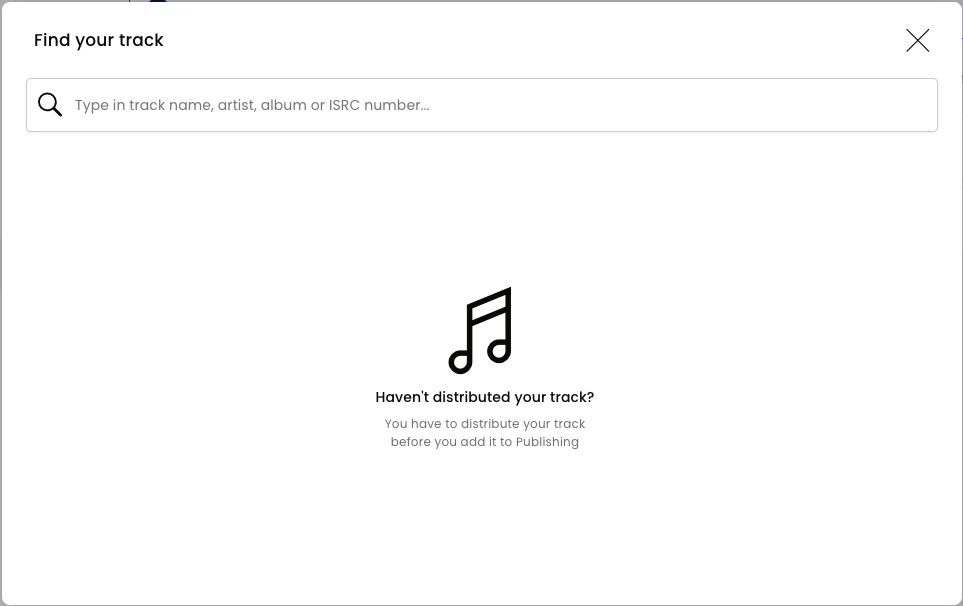 4. Once you locate your track, please click the "Select" button to move on to the next step.
5. On the next screen, you can review the track information and select the Co-Writers if necessary.
Please try not to register songs listing "Unknown" - be sure to always enter your collaborators by their full legal names or stage names when registering works.
NOTE: Please note that on this screen, the track information is read-only, and the only information available to change is your Publishing Percentage, your Role, and the option to add Co-Writers (if any). At any time you can click "Cancel", "Save as Draft", or "Publish".
6. After checking the track information and adding the Co-Writers (if any) next click the "Publish" button.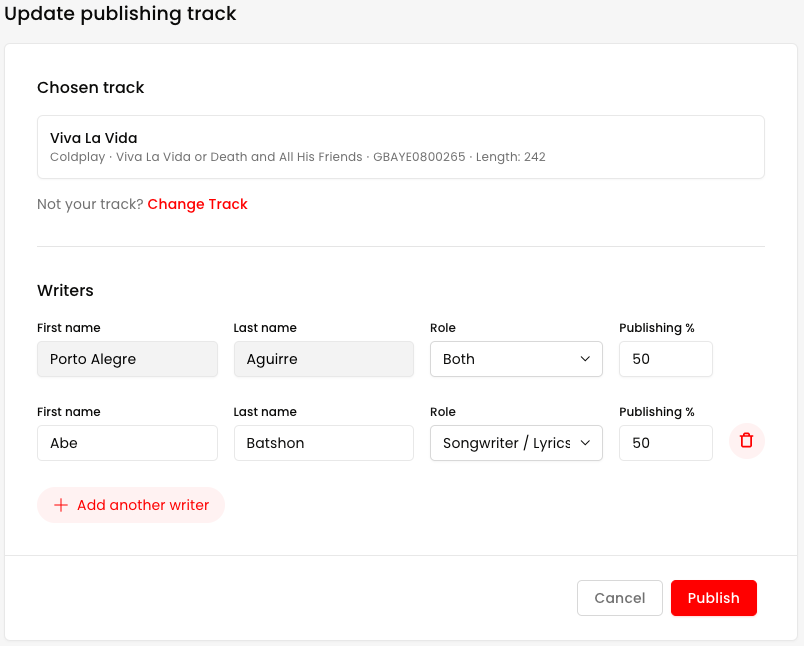 7. In the next screen, you will see the list of tracks you sent for publishing and they will be marked "Published" if approved. (See Example)
9. In the tracklisting section, please see below with regards to the status you might see and what each means:
Draft: This status is used whenever you click on the "Save as Draft" button. This status is for drafts you created but have not yet published.


Queued: Your tracks will be in this status while we check your submission data. When your submission is approved your tracks will move to "under review". No resubmission action is necessary. Your track can then be "approved" or "rejected".


Rejected: If any inconsistencies or issues are identified by our Quality Control Team, then your track may be rejected. We will notify you explaining the reason and request necessary changes to resubmit again.

Approved:

This status is used to confirm that all data is correct and the track has been accepted for publishing. We will then start to collect any royalties when accrued for this release.